Amazon.com:
Everybody comes from somewhere, and many of the inductees in the Canadian Music Hall of Fame come from some mighty rugged places. Take Anne Murray, product of a mining town where the children would gather at the end of every day to watch their fathers emerge from the bowels of the Earth. Or Hank Snow, whose nearly 40-year-old, career-making hit record "I'm Movin' On," as he says in this chipper documentary about the roots of some 30 Canadian musicians, was a testament to the joys of rattling around one-horse towns in the nation's west.
Tower of Song: An Epic Story of Canada and Its Music has a way of narrowing the fame gap between ordinary folks and the likes of Denny Doherty (lead singer of the Mamas & Papas), jazz great Maynard Ferguson, folk legends Ian and Sylvia, and even the wondrous Joni Mitchell, all of whom are products of the frontier expansiveness, freezing winters, and scattered city lights of the Great White North. The point is that you can't take Canada out of its homegrown artists, and that the thriving music scenes of Toronto, Winnipeg, and elsewhere during the 1950s, '60s, and '70s may be unparalleled in their historic eclecticism and sense of comradeship. Highlights include a highly entertaining history of the Guess Who, whose story is as emblematic of rock & roll transformation as any, and the fascinating careers of doo-wop groups the Crew- Cuts and the Diamonds. And, uh, let's see: some old hippie named Neil Young shows up at the end. --Tom Keogh
Also from Amazon.com
Description: Description
"Tower of Song," a remarkable story set to an extraordinary soundtrack, is a two-hour television special spotlighting the 30 artists currently in the Canadian Music Hall of Fame. Shot on location across Canada, "Tower of Song" places the artists and their music in the context of their homeland as the camera catches the changing panorama of Canada's vast landscape. An inspiring set of musical portraits created and voiced by the country's greatest singers, songwriters and musicians: Paul Anka, The Band, Lenny Breau, Wilf Carter, David Clayton-Thomas (Blood, Sweat and Tears), Leonard Cohen, The Crew Cuts, The Diamonds, Denny Doherty (The Mamas and the Papas), Gil Evans, Maynard Ferguson, Maureen Forrester, The Four Lads, Glenn Gould, The Guess Who, Ian and Sylvia, John Kay (Steppenwolf), Moe Koffman, Gordon Lightfoot, Guy Lombardo, Rob McConnell, Joni Mitchell, Anne Murray, Oscar Peterson, Rush, Buffy Sainte-Marie, Hank Snow, Domenic Troiano, Zal Yanovsky (The Lovin' Spoonful), and Neil Young.
Front Cover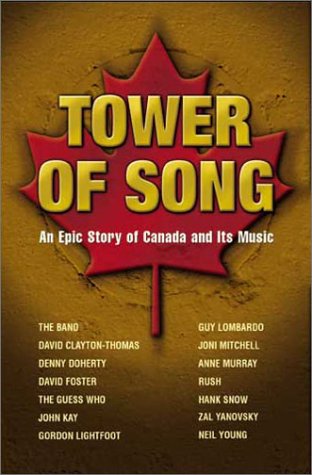 Menu Screen (DVD)

Back Cover